Download this manual (.PDF, 743 Kb)
1. Features
Bluetooth Wireless Technology
Ultra-Low-Profile Ear Cups
Audio Input Jack
Independent Volume Control
Replaceable Ear Pads
Two Hi Gain Omnidirectional Microphones
Recessed Volume Control Knob
Compact Folding Design
External Battery Door
Ultra Padded Headband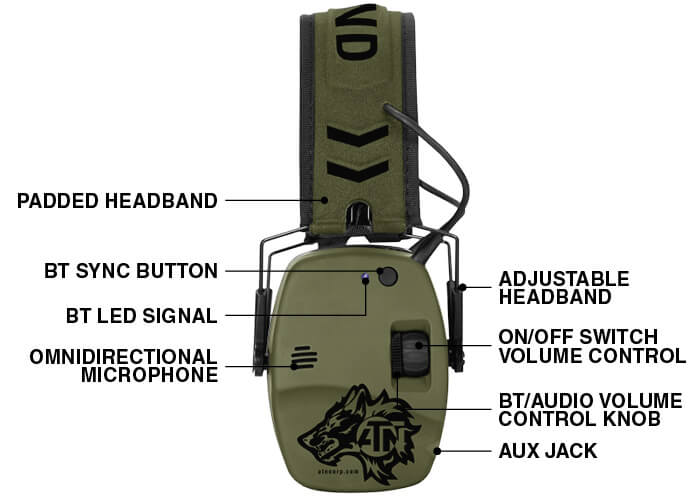 2. Specifications
Name: Hearing Protector
Brand: ATN
Model: X-Sound
SKU#: ACPROTXSND
Noise Reduction Rating: 22 dB
Sound Activated Compression (reaction time): 0.02 s
Battery type: 2 AAA
Battery life: 300 h
Bluetooth version: 5.0
Dimensions: 4.9" x 3.7" x 0.5" / 125 x 95 x 13 mm
Weight: 0.8 lb / 370 g
ATN reserves the right to change the above specifications at any time without notice.
3. Application
ATN X-Sound Ear Muff reduces harmful loud noise down to safe levels below 82 dB and enhances clarity of surrounding low level sounds such as conversations and announcements.
The ergonomic volume control knob allows for total adjustment of the two built-in omnidirectional microphones, while built-in wireless capability enables hands-free calling and music enjoyment. Or, connect a playing device via the 3.5 mm audio jack.
WIRELESS PAIRING
Turn the unit on and hold the ВТ Button down for 1 second. Pairing will initiate and the blue LED will flash every 2 seconds.
Select the name "EM030BT" in the Bluetooth settings on your phone or mp3 player to connect.
ANSWER CALL
Short press the ВТ Button to answer an incoming call.
REJECT CALL
Long press the BT Button to reject an incoming call.
END CALL
During a call, short press the BT Button to end.
LAST NUMBER REDIAL
Double press the BT Button to re-dial the last phone number.
AUDIO PAUSE/PLAY
Short press the BT Button to pause/play music.
CALL ON HOLD/WAITING
During phone calls, if a new call comes in double press the BT Button to switch from the first call to second call. To switch back to the first call and end the second call, short press the BT Button.
WIRELESS BT TECHNOLOGY
Make and Receive Calls and Listen to music with BT Connection.
Full Dynamic Range HD Speakers for Clear Balanced Sound.
Audio in Jack Connects Phone or MP3 via 3.5 mm Cable Included.
SAFE VOLUME CONTROL TECHNOLOGY
5x Hearing Enhancement.
Sound Activated Comperession 0.01 Second Reaction Time.
Recessed Volume Control of Ambient Sound when Sound over 82 dB.
NRR 22 dB+.
Two-channel control BT volume and sound amplification volume.
4. Battery Installation
Slide the battery housing up to open the compartment. Install the battery with the correct polarity as indicated in the body. Replace the battery cover and slide down to seal the compartment.